Description
Specifications
Customer Reviews (17)
Disclaimers
Item Description:
Made of high quality stainless steel & dipped in matte-black oxide coating
Card thickness – 0.8mm | Weight – 0.9 Ounces/25 grams
Back of card is engraved with original plastic card information
"Logo Here" is replaced by the card type indicated on the order form
Laser engraved design with no raised lettering; this is not ink printed
Note: All original magnetic stripe data is linked to new metal card (data is linked & never stored)  See how does it work tab for processing details
Please note: All orders are required to ship a frozen or unactivated plastic card to the laboratory for processing; this is the only way to successfully create a functional metal card. (Free shipping U.S. orders only)
International Clients Please CLICK HERE before placing an order.
** Template designs are subject to change without notice. 
EMV Chip Sizes: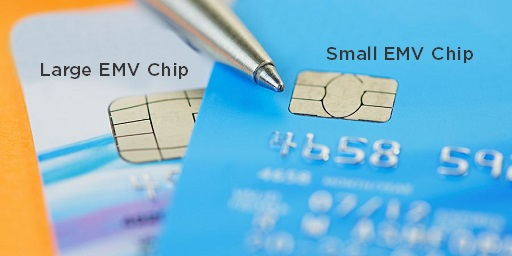 Large Chip Size Reference:

17 Reviews for Matte-Black Template #1
A feminine perspective - Monday, October 10, 2022

Kimberly A. - LVN

I was absolutely confused by the idea of this service at first, but after speaking to the owner (Vince), it all just clicked for me.
Not only does my new black card practically demand compliments. Like almost every time use it; bars, restaurants, business meets, dinners, etc. It also gives me a sense of pride. I'm in real-estate and I don't subscribe to the basics. I want the best. So I am HIGH. My new metal black card reminds that if I want something for myself I absolutely need to go out and make it happen. Just like what Vince did with this amazing service. He identified a "need" and went out and made it happen. I am definitely going to upgrade more of my plastic cards. Thank you Vince and team. Y'all are amazing.
A very satisfied customer,
Kimberly A. - LVN

I had no idea this was even a thing! - Saturday, September 10, 2022

Ed from Texas

I've always wanted a metal card. Something flashy, but subtle. Something instantly recognizable. But I would never apply for a Mastercard Black Card. The fees are ridiculous. So learning this was an option I fucking jumped at it; and I don't regret it.
I just received my first metal card and it's simply glorious. I'll be back for more. Enough said.

Perfect! - Tuesday, July 13, 2021

Joshua J. - Missouri

This is exactly what I wanted. I hate my plastic debit card. Thank you guys. Just received mine in the mail yesterday. I works perfectly. Great work. If I get a credit card I'll be sure to get it upgraded also.

Thanks again.

JJ

Awesome Customer Service! - Thursday, June 10, 2021

Anonymous

I received my new metal card a few weeks back and it had an issue with the magnetic stripe. I emailed their customer service and the auto reply said they would get back to me in 24 hours, okay. But I got restless and needed a quick response, so I texted their "24 hour" tech support line. And holly-cow they texted back within an hour. They helped with my issue and I was taken care of. Like a dummy I forgot to activate my card when I got it back. But it was super helpful to have someone from the company readliy available to chat via text. I couldn't be happier. Thanks MCC guys

Better Customer Service - Sunday, June 6, 2021

Darrell J. New York City.

I only wanted a metal card to replace my cheap bank debit card. What I got was much more than just an upgrade.
So far, everywhere I go and hand my card to a waiter or bartender or cashier, I get better customer service. Its a really cool feeling when the manager of a restaurant comes to our table to say hello.
Is it the card? IDK, but I've never seen such consistent excellent customer service in years. Oh and I live in NYC, so yeah. Go figure.
Thanks guys for my card. I fing love it.

Darrell J. New York City.

This is sick af - Friday, April 30, 2021

Jimmy D.

I always thought I had to be rich to get a cool metal card from my bank. NOPE This is better. I just got mine done and I LOVE IT. Imma get all mine done now. Thx

Jimmy D.

Perfecto! - Tuesday, March 30, 2021

Barry - San Francisco, California

Hi guys! Just wanted to leave a quick note. You guys ROCK! My card is EPIC. Exactly what I always wanted. All black with my card information on the back. Thank you.
Side note: thanks Jamie for the help with the UPS labels you're a gem.
Barry in SF.

Exactly what I wanted!! - Thursday, March 4, 2021

Robert. T

No branding. No numbers. No extra information. Just clean. I requested that they don't engrave any information just like hothead apple credit card and they did it. My card looks sleek and sexy... like me; lol jk.
Thanks guys. Great work.

Exactly what I wanted. - Wednesday, January 13, 2021

Jordan R. - NC

I've always wanted a BLACK CARD, but getting approved for one is stupid. Plus $500 a year annual fee isn't something I wanted to spend on something I thought was simple; like why cant banks just offer metal? Either way when I found this company I was instantly sold. And when I got my card.. oh man! I just gotta say thank you to the inventor of this company. Seriously epic work. Great customer service and awesome product. I will be ordering more soon. Thanks.

Better than I expected - Sunday, December 20, 2020

Adam, S. - Virginia

I have an Amex platinum card. It's heavy, but not like this. I didn't expect it to be heavier. This company definitely delivers what they advertise.
My platinum card would sometimes get compliments , BUT my new custom metal card is ridiculous. Every time, without fail, I get a comment. It's kinda fun.
But what I love most about this card is the instant status and change in people's attitudes when I had it over. Oh man, it's like night and day attitude changes.
One minute the bartender is cold and unresponsive, and after I gave him my new metal black card, he came back around with all smiles and jokes and top notch custom service. I love this card.
Would I recommend? Yes, hell yes.

10 times better than my plastic debit card - Wednesday, October 21, 2020

Joanna P. Naples, FL

When I found you guys I had been dreaming about this type of service forever. I hated my plastic debit card. Now, with my new metal black card, it's like a whole new world. I get treated differently; in a good way. I've only had my metal card two weeks and each and every time I pay for lunch or dinner I get compliments on how cool my card is, or how heavy it is. I don't know why but it makes me feel good. Like I'm being taken seriously. Either way I'm loving the attention. Thank you so much for making this happen for me. I'll definitely be a customer for life.

BEYOND HAPPY - Monday, September 21, 2020

Albert, G. - Los Angeles CA.

I gotta say, this is propballuy the coolest card i've ever had; and I've had a Visa Black card before. This metal card blows that card out of the water!!!!!!!! Thanks guys!! Will recommend your service to all my peeps.

Peace of mind with the PDP - Friday, September 4, 2020

Daniel Y. - Phx Arizona

So I ordered my card upgrade back in 2019. When this PDP personal data protection option first launched. I recently lost this card and didn't realize it for about an entire day. But once I did I knew that if someone were to find it, it would be useless to them since it doesn't have all the card numbers engraved on the card lol. Sure I freaked out losing the card, but then I wasn't. Your PDP was definitely worth getting done.
I also appreciate your prorated warranty. Losing the card sucks but I thought I was going to have to pay full price for another metal card. Thankfully that wasn't the case. Since I qualified for the prorated warranty, I was given a 40% discount code to place a new order. That was appreciated. Seriously.
Thank you guys for your help. Thank you Jamie for your great customer service. And thanks Vince for inventing this service.
Sincerely,
- Daniel

Excellent Warranty - Tuesday, August 25, 2020

Miles, T. - Tampa FL

I purchased this service a few months back, during Covid quarantine, and I recently had an issue where the chip on my new metal card stopped functioning. The company was very helpful with explaining the warranty process to me. I didn't purchase the extended warranty but I was eligible for the free 6 month replacement warranty that comes with my purchase. They didn't make it difficult for me. It wasn't a hassle. All I had to do was get a new plastic card from my bank and send everything back to their laboratory. Basically redoing the process again, but Totally free to me. I couldn't be happier with this service. Their customer service team is beyond excellent. And now I have a freshly made metal. Thanks guys.

Get the PDP. It's worth it. - Thursday, August 13, 2020

Travis L. - Texas

I got the PDP and it makes me feel safer. If I ever lose my metal card I wont need to worry as much about some idiot trying to use it online since it doesn't show all my card numbers. Its kinda similar to the Apple credit card, but different. Y'all should just remove all the numbers entirely. It would make for a cleaner look. Either way, I love this thing. Just seeing the look on people faces when I hand it to them is priceless. - Travis L. - Texas

Quick Service - Wednesday, July 8, 2020

Jacob K.

The site says 7 to 10 business days, but I got my order back in like 6 days. That was good. Even though we were quarantined I didn't want to be without by credit card for very long. Thanks guys. Loving my card. Special thank you to Jamie Lee, your customer service is top notch. - Jacob K. NYC

Classy & Minimalistic - Wednesday, March 11, 2020

Edwardo J.

I hated my plastic B of A debit card and credit card. Finding this service was exactly what I wanted. B of A doesn't offer regular guys like me cool metal cards. So I ordered two matte black cards. I knew that the cards were going to be 100% metal but damn they are HEAVY. This template is clean and has no branding. I love it. Going to apply for a Travel BofA card and get that upgraded too. Thanks guys. - Edwardo J. - Austin Texas
Submitting Your Review, Please Wait
Your Review Has Been Submitted Successfully
Add a review for Matte-Black Template #1
You must include a title, rating, and message in your review.
Your Review Title
Your Rating
Your Review