Beta EMV Chip Swap™ Procedure
"If you're going to make an omelet, you have to break a few eggs"- Vincent Torres CEO. Same goes for a fully functional Metal EMV Chip Card. For example: the chip from your old plastic card is removed and transplanted into the new metal card, thus rendering the old plastic card obsolete, in order for the new metal card to be **100% fully functional.
The Previous Solution
The R-EMV™ (redundant EMV) Chip was successful in allowing clients to use their New Metal Custom Cards (R-EMV chip was not programmed. Original plastic card was left intact). R-EMV™ chip cards were 80% functional. The cards would function anywhere chip cards are not taken. As well as allow the end user to perform the R-EMV™ chip bypass procedure at EMV enabled registers. (R-EMV Chips No Longer Available)
The New Alternative: Now Available
Update: 11.29.2018
BETA Test: EMV Chip Swap™ Procedure** (chip from original plastic card is extracted and implanted to the new metal card; old plastic card is rendered obsolete). New metal card is **100% functional. This procedure is available to clients worldwide.
**Procedure NOT functional with some Card Types (see list below)
Clear Every day Cash, Green, Purple and Gold cards are 95% successful with this procedure (small & large chip)
Discover Cards are 95% successful with this procedure (small & large chip)
Visa & MC are 96% successful with this procedure (small & large chip)
No longer accepting semi-metallic cards i.e Sapphire CSP, Semi-metallic Platinum Express cards; Wells Fargo Propel Red Metallic card; if sent in for production they will be sent back.
**Cards with the RFID Contactless Touch Pass/ PayWave logo are 80% successful (see photo below). Meaning the chip will function, but the contactless feature is disabled.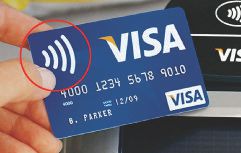 Pricing: $65.00** USD (Beta Test Price)
Construction: 0.8mm/25gr
Warranty: Standard Warranty Applies (see Warranties). Extended Protection plan now available.
Small Chip & Large Chip verification: Beta currently services both Small 6 contact point EMV chip types & Large Square (not round) 8 contact point EMV chip types. (See photo below for size reference)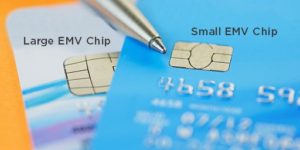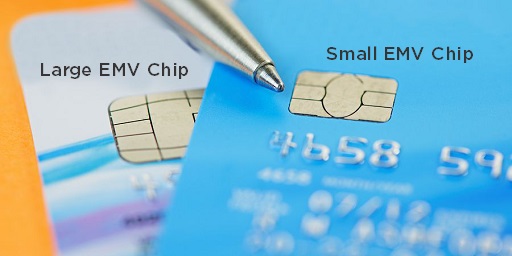 Please Note: this option is added when during regular order process. Do not add this process to the cart alone unless prompted by customer service.
CLICK HERE! TO BEGIN YOUR ORDER
BETA Test Disclaimers:
**due the sensitive nature of the chip construction. There is a low possibility of Chip Damage occurring during the EMV Chip Swap procedure.
**In the off chance of a client's original EMV chip is damaged during the swap procedure, the client will be notified and asked to request a replacement card from their financial institution/cc company. This will delay the production process.
**Beta EMV Chip Swap™ procedure is on average 95% Successful, but in the off chance that the chip does not function when a client attempts a transaction; the registers EMV Bypass protocol will take effect; forcing the client to SWIPE the card; thus allowing the client to complete a transaction.
**RFID Contactless Touch Pass/ PayWave Cards are identified by the Wave Logo seen in the example above. If your plastic card has this logo printed on it, be aware those types of cards have a 80% rate of sucess with the Beta EMV Chip Swap Procedure. Meaning the chip functions, but the contactless feature is disabled.
**The laboratory at MCC is perfecting the procedure daily. Rest assured our laboratory techs will apply great care to the construction of your New Metal Credit/Debit Card.
All Beta EMV Chip Swap™ Procedure sales are Final – once the procedure is performed; the original plastic card can not be salvaged.