Description
Specifications
Customer Reviews (1)
Disclaimers
Payments
Item Description:
Disclaimer: it is recommended to NOT use 24k gold card in financial center ATM's – Damage/Scuffing will occur
24K Gold plated cards are very sensitive and will show signs of wear/scuffing/tarnish quickly. We recommend upgrading a plastic card that is only used for special occasions
Use caution when handling in public. This card is to be considered as valuable as jewelry, owner discretion is advised
Cards are 0.8mm thick & weigh .9 oz to 1.0 oz 
All Magnetic Stripe Data Is Transferred to New Metal Card (Transferred Never Stored)
Laboratory process cannot engrave into the 24k Gold Plated card. Laser ink/primer is used to mark/create any letters, numbers and or images. Laser ink/primer is Black in color. No other color options are available at this time.
Please note: All orders are required to ship a frozen or unactivated plastic card to the laboratory for processing; this is the only way to successfully create a functional metal card. (Free shipping U.S. orders only)
International Clients Please CLICK HERE before placing an order.
** Template designs are subject to change without notice. 
EMV Chip Sizes: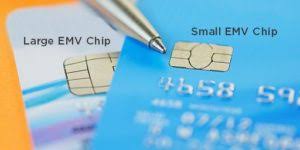 1 Reviews for 24k Gold Template #1
Sexy AF! but delicate. - Thursday, January 21, 2021

Barron, P. - Los Angeles, CA

I got my 24K Gold card about 9 months ago. I used a BofA travel rewards card that I use for business trips.
How this site explains their service is accurate. I upgraded my favorite credit card to metal and retained all the card benefits and gained a few more perks.
What other perks?
Well have you ever seen a hotel desk clerk lose this shit when you had him a 24K gold credit card??? No? Well you're in for a treat. They practically rolled out the fucking red carpet. Room upgraded. Later than normal check out. Desk manager steps out to great you and wish you a great stay. Yeah, maybe this is normal treatment at a fancy hotel, but I'm not famous, not a celebrity and definitely not wealthy. I've stayed there before and never got that kinda treatment. It was refreshing and I LOVED IT.
Maybe it was the card. Maybe it was just a good day. But I'm fairly fucking certain it was the heavy 24k gold card.
My only issue with this card is that it is sensitive. It scuffs up fairly easy. But what did I expect, the company told me from the start. Oh well, I still love it. End rant, Thanks guys.
Submitting Your Review, Please Wait
Your Review Has Been Submitted Successfully
Add a review for 24k Gold Template #1
You must include a title, rating, and message in your review.
Your Review Title
Your Rating
Your Review