Custom 24k Gold Plated Credit Card
So your friends own "Gold Cards"… that's cute.. then why is it made of plastic? Upgrade to the real thing. A 24K Gold Plated Card just screams "BAD MOTHERF**KER"
Price Starts at: $299.99
Item Description:
Disclaimer: it is recommended to NOT use 24k card in financial center ATM's – Damage/Scratching may occur
24K Gold plated cards are very sensitive and will show signs of wear/scuffing quickly. We recommend upgrading a plastic card that is only used for special occasions
Use caution when handling in public. This card is to be considered as valuable as jewelry, owner discretion is advised
Cards are 0.8mm thick & weigh .9 oz to 1.0 oz
Custom Artwork Setup Included (within limits)
All original card info engraved/marked onto the Back of the card (standardized template)
All Magnetic Stripe Data Is Transferred to New Metal Card (Transferred Never Stored)
Please Allow 24 Hours For the Design Teams to Contact You. They Will Help You Create The Custom 24K Gold Plated Card You've Always Wanted
Laboratory process cannot engrave into the 24k Gold Plated card. Laser ink/primer is used to mark/create any letters, numbers and or images. Laser ink/primer is Black in color. No other color options are available at this time.
Please note: All orders are required to ship a frozen or unactivated plastic card to the laboratory for processing; this is the only way to successfully create a functional metal card. (Free shipping U.S. orders only)
International Clients Please CLICK HERE before placing an order.
Start Order Here: What type of card are you upgrading to metal?
[cc_product sku="3001″ quantity="user:1″ ajax="yes" ]
Beta EMV Chip Swap™ Disclaimer:
If your card is EMV chip enabled we recommend adding our Beta EMV Chip Swap™ procedure. This option will transplant & install the EMV Chip from your plastic card into the new metal card; to learn more click HERE.
PDP – Personal Data Protection disclaimer:
This free option will inform the production team to not engrave onto the new metal card the middle 8 or 6 numbers of your card information. The purpose of the PDP is to safeguard your card information when using the card in public; to learn more click HERE.


Do You Want To Edit The Back Of Your Card? No Problem.
"Edit" This means modify the standardized template (See Template below). Some clients do choose this option simply to change the Font, Layout, or even add personal/special logos. (Note: Due to manufacturing the signature panel can not be moved. Questions about Back of Card Editing please Contact Info@Metal-CreditCard.com or refer to our F.A.Q)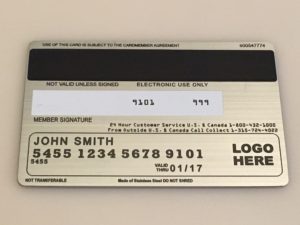 Need help with your order? Call Customer Service
1-866-523-2747
Monday to Friday
1000-1700 (PST)