Engraved Metal Business Cards: Attractive, Affordable and just F'ing Awesome.
Anodized Aluminum (25 qty) Starting @ $99.99*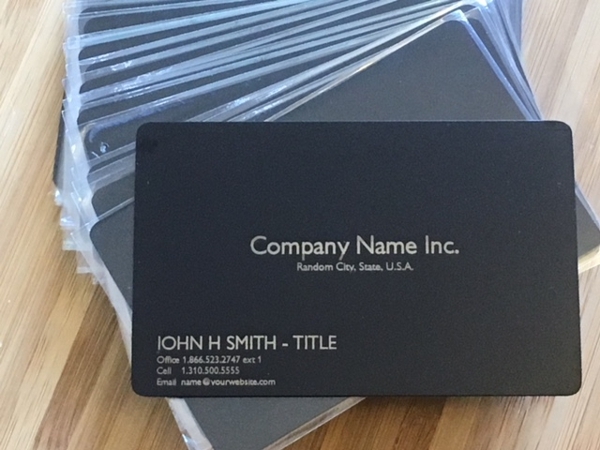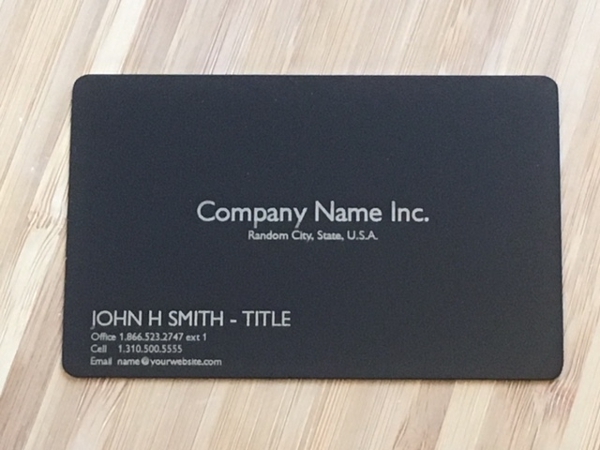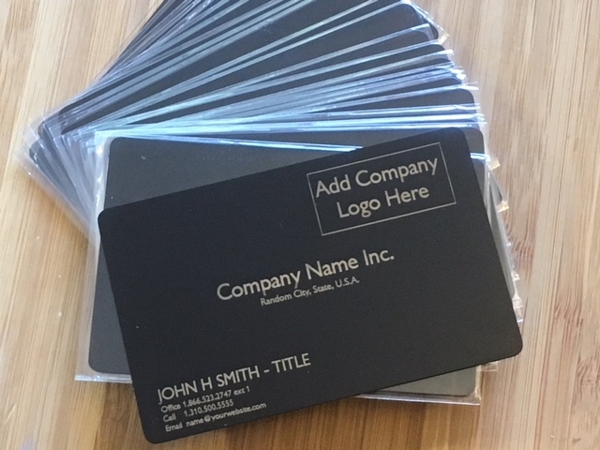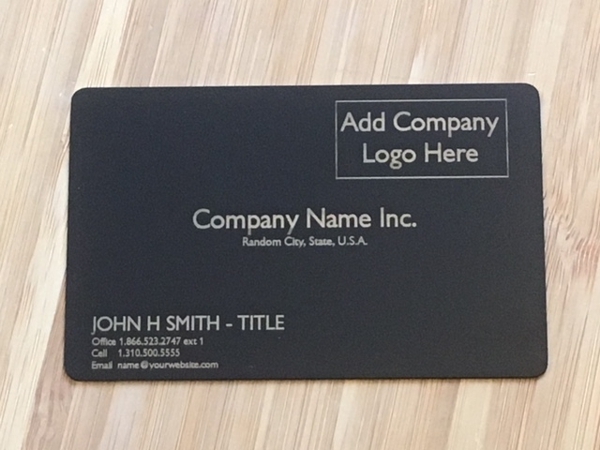 Item Description:
Made Of High Quality Anodized Aluminum & Dipped in Black Oxide Coating
1 qty = 25 Metal Business Cards
Card Color: Matte-Black
0.5 mm Thickness
Laser Engraved Design With No Raised Lettering; This Is

Not

Ink Printed
No Font Colors = Faster Production Time; Strictly Engraved
The Back is Blank (matte-black in color)
Price Includes Help from our Design Teams (no extra cost)
Free Shipping on all Engraved Metal Business Cards (USPS Priority)
Design teams will contact client via email with 12 to 24 hours of confirming the purchase
Please Note: Business Card orders are shipped within 24 to 48 hours of artwork approval.
*Pricing May Change Without Notice
Why Metal Business Cards?… Why not!?
For many people, working with business cards is part of their everyday life. Handing them out to clients, networking companions and suppliers is commonplace and this is why it helps to have plenty of business cards on you at all times.
You never know when you might need to hand one out to someone; in fact, you might never when you need to give people access to your details, your business and your general contact information so having it available is the perfect thing to do.
However, most people just stick with the tried and tested, and cost-effective, solution of the paper business card.
As common as these are, they have several drawbacks that can hold you back from getting the look and feel that you really wanted from the business cards in question. For example, you'll have to put up with;
Weak and flimsy material that can be ruined relatively easily
Paper business cards are easy to lose, whether it's down a slit in a table or just falling out of someone's packet – their weightless nature makes them easy to forget about
Paper cards also tend to look poor when they are exposed to weather; excess water, for example, will more or less empty the card of all of its design and details
So, what options are open to you? Well, for many businesses, the world of the metal business card can come to life at this point. The metal business card offers a far sturdier and effective alternative to this, ensuring that you can have something far more durable. Just some of the benefits of the metal business card will include;
Far more durable and effective – they can withstand the weather and are less likely to get lose
They are high class and make you look a step up from the norm. People tend to trash normal business cards but will be more likely to keep hold of a business that comes with a metal card
Their durability is reflected in their quality; you can tell just by looking at a card like this that it carries all of the hallmarks and qualities of what you need and how you can adjust the project to fit your needs
They really do make a splash! Pull one of these out at a meeting and people will be far more impressed than a simple paper style. It makes you stand out from the crowd
Are you interested in making your business appear more durable and more reliable than ever before? Then you should always consider how your marketing makes you look. Metal business cards make you look that next stage up from your average punter, giving your clients a real choice to make about who to go with!